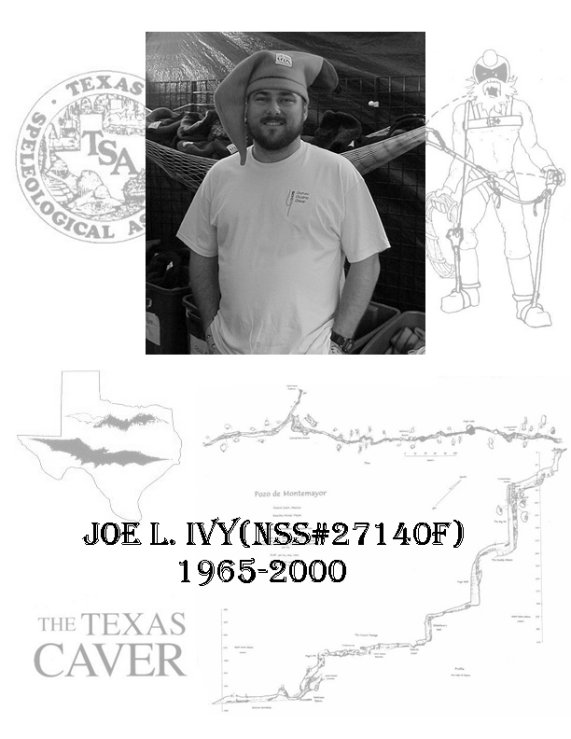 On the evening of September 30, 2000, Joe Ivy died from a fall while performing a Texas record-high dome climb in O-9 Well Cave. Joe was one of the most skilled cavers in Texas, especially in vertical and cave rescue techniques. His death is a tremendous blow to cavers throughout the country, both from sorrow and concern on how someone so skilled could have perished.
Joe began caving with the San Antonio Grotto at 16. His life story is one of persistence toward excellence. No one expected he would remain a caver for long. A slow-moving, polo shirt-wearing preppie and the drum major of his high school band, he was somewhat nervous about doing the things necessary to caving. But by the time he reached 18 that had all changed. By his late 20s he had gained international respect for his strength, caving skills, leadership, and irreverent good humor.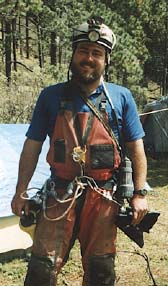 Among his many caving accomplishments are hard-charging explorations of hundred of caves throughout the U.S. and Mexico, most of which he surveyed or helped survey. Joe played key roles in pushing/surveying the longest caves in Texas. He led the push of Pozo de Montemayor, and through his first bolt climb made it by far the deepest cave in northern Mexico at -515 m. He was a regular member of the Sistema Cuicateca (Cueva Cheve) Project, one of the deepest caves in the world. He recently headed the exploration of Mexico's Cueva de la Puente, which had long been written-off as a short cave, and pushed it to over 8 km in length through some of the most spectacular passages anywhere. His list of expeditions and projects are too numerous to mention.
Joe cared deeply about the caving community and served it in many capacities. Over the years he had been chairman of the Bexar Grotto and Texas Speleological Association (TSA), he served as the Texas Regional Coordinator of the National Cave Rescue Commission, and at the time of his death was Chairman of the TSA Safety and Rescue Committee and co-editor of the Texas Caver. He had published over 60 articles on caving, including his many trademark insightful, no-nonsense reviews of caving equipment and techniques. He trained countless novices, led and assisted with numerous cave rescue training seminars, and pioneered new, effective cave rescue techniques, especially small party self-rescue methods (he was writing a book on the subject) that could be needed in the remote caves he was so fond of exploring. In 1997, the NSS recognized Joe's achievements and made him a Fellow of the Society.
Joe's passion for caving spilled over into his work. He was the co-owner of Gonzo Guano Gear, and took justifiable pride in designing fine caving equipment that he rigorously field-tested on his many expeditions. With his Geography degree in Environmental Management, he regularly worked for 13 years as a contractor in karst hydrogeological, biological, and related environmental research. During his last couple of years, he was increasingly being called to teach courses in vertical and rescue techniques.
Joe Ivy is survived by his companion, business partner, and co-editor Becky Jones, by his brother Marvin Ivy, sister-in-law Kristy Ivy, niece Ashley Ivy, and a large, internationally extended family of cavers who loved and respected him. A fund to support cave exploration is being established in his name. Those wishing to make donations to the "Joe Ivy Endowment for Cave Exploration" can send them to the NSS office. Joe's passing has left an "Ivy-sized" hole so large in our caving community that we may never be able to push far enough to find its end.
George Veni
---
Return to the Top of the Page
Return to the NH #45 Contents Page
---
Copyright © 2000 Vertical Section of the NSS, Inc. - All Rights Reserved.