ANCHOR WARNING
Danger from Anchors at Floor Level
National Caving Association, UK
Council of Northern Caving Clubs Technical Group (C.N.C.C.)
(Ed. Note: although this is written for the British caving group, all vertical cavers should heed the warning, when maneuvering at an anchor.)
After a thorough investigation, the C.N.C.C. Technical Group is issuing the following warning. It concerns the use of the following permanent anchors:
Eco anchors
Petzl safety bolt
Fixe glue-in
Collinox
Batiinox
In certain locations it has been necessary to locate the anchor placement at ground level. After an intense investigation the following points have arisen.

When an anchor is clipped into at ground level and progression to the entrance drop is made by keeping low, it is possible for the attachment carabiner to become detached from the anchor. Also, anchors that have been placed below waist height on traverses and not correctly aligned with the direction of loading, may produce a similar result. See figs. 1 & 2.

When using anchors placed in rock at ground level or anchors that have not been placed correctly on traverses (e.g. too low and the wrong alignment), certain extra precautions need to be observed:
While maneuvering, watch the attachment carabiner.

Always ensure that you have two safety devices connected.

You may want to consider using screwgate or twist gate carabiners on safety loops/Cows tails.

When belaying/top roping etc., where there is a necessity to move around, it may be desirable to tie into the anchor.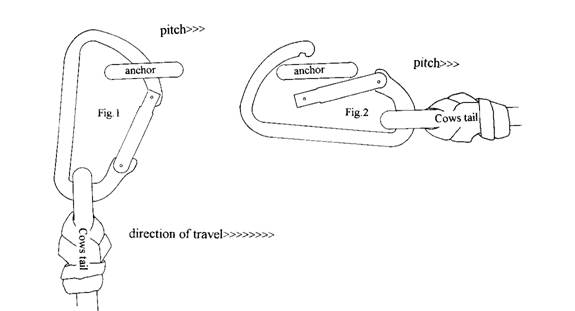 ---
Return to the Top of the Page
Return to the NH #50 Contents Page
---
Copyright © 2005 Vertical Section of the NSS, Inc. - All Rights Reserved.